Your Family & Surrey Bikes

No other product serves your family's recreational needs quite like a four wheel bicycle. 
Here top reasons your family should own a Surrey bike …
Not only is a four (4) wheel bicycle an investment in your family's health because it's good for you, they'll actually want to do it (unlike eating their vegetables)!
A Surrey bike can be enjoyed by each member of your family regardless of age or physical ability.  You can bring your entire family along for a bike ride, even small children who will sit in safety and comfort in our patented baby seat complete with handlebars and safety belts to strap them in.  Small children ride in front of you instead of behind you so you can keep an eye on your most precious cargo.
Unlike with a traditional bicycle which can be a shaky experience for riders with less balance, including any younger, elderly or special needs members of your family, the Surrey bike 's four wheeled design provides all of the stability needed so everyone can ride with confidence and without unnecessary falls.
And when one of your crew gets tired of pedaling, your family outing won't need to be cut short again.  You'll have the rest of the clan to pick up the slack so you'll be going places!  That's team work!
Kids of all ages can take turns driving and pedaling which teaches them to share, a skill that will be put to good use once the neighborhood kids see them take a spin around the neighborhood in their new Surrey bike.  And this communal form of cycling offers quality family time that can be missing when each member of your family rides alone on a bicycle.
You can have family talks with ease with everyone riding side-by-side.  You won't have to catch up to catch up!
And speaking of catching up, you'll never have to worry about a child riding off alone, so it's more than just a couple of extra wheels that make it safer.  The Surrey bike gives new meaning to the buddy system.
And no one will have to share a room to add a Surrey bike to your family.  It will fit in your garage and take up less space than the four or five bikes you would have had to store if not for your Surrey bike.  Move out bicycles!  The Surrey's moving in!

Families just like yours have shared with us how their Surrey bike has helped them create memories one block at a time.
"I want to restore my surrey to ride with my great grand children the same way I rode with my children. Our surrey has been used in Albuquerque, New Mexico and Toledo, Ohio by my kids, but we always return it to El Paso. I want to put American flags and horns on it and ride it down Main St. like we did in the 1980s."
The photograph above was sent to us by Hector from El Paso, Texas. Hector purchased a Surrey in Galveston, Texas, our long time home, in the early 1980s. Hector called for replacement parts to restore his 30 year old Surrey bike and was kind enough reminisce and share his warm memories with us.
We know we exceed your expectations because you tell us we do…
"We are enjoying the new Surrey.  We took it for a test run and have had it out every night since.  We won the "Best Little Float Award" in the parade.  Thanks again!" — Max D. from Texas
"My daughter's new surrey arrived yesterday afternoon.  Thank you so much for making it possible.  I have nothing but praise for the surrey.  We have had 2 surreys in the past 22 years, and have used them for exercise most every day.  My daughter was injured in a car accident 30 years ago and received a severe head injury, which left her without a sense of balance among other things.  We were looking for a way to help her get her exercise when a friend told us about the surries she had seen on a trip to Galveston.  We contacted you and made a trip to Texas and purchased the first one in 1987.  I wish we would have had an odometer so we could see how many miles she has traveled." — Linda S. from Arkansas
"I have to tell you that we love our Surrey Limousine.  We have been riding it nearly everyday, to the grocery store, restaurants, friends' houses, 4 mile loops just for fun.  We enjoy the looks.  We've had two people take pictures, and everyone has a comment.  Wanted say Hi and thank you." — Brent S. from Arizona
Because your family is unique, your Surrey bike should be too!
No other company allows you to customize your Surrey bike like we do.  Not only are we the only company in the industry to give you the option of a seven (7) speed transmission  and electric assist for easier riding and added enjoyment, we offer you optional accessory packages and custom colors to make your Surrey bike uniquely yours.
| | |
| --- | --- |
| Need added storage?No problem!  Looking for a surrey with a safety harness for your special needs child? We can do it!Want a pink surrey to match your pink car?  We don't ask questions!We're here to give our customers Surreys exactly the way they want them.  Unique Surrey bikes for unique families…that's how we roll. | |
Excellent Service for more than 40 Years and Counting…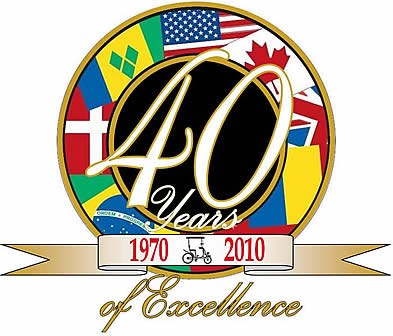 And it's not just your Surrey bike that's unique when you do business with our company.  It's our services we offer you with your Surrey bike that are uniquely ours.  Because we know it is important to you, we offer you an optional extended warranty to make sure your family is enjoying your Surrey bike for years to come. And we're not just here for you until your Surrey bike is delivered.  The same number you called to purchase your Surrey bike can be called to ask questions about your Surrey bike once you've got it home.
And if that wasn't enough… Surrey bike cycling is fun and healthy!
Our products are good for you too!  Cycling benefits your family, community and environment.

Surrey bike cycling will substantially contribute to your physical health and    well-being.
 Cycling is a great cardiovascular exercise because it gets the heart rate elevated with minimal effect on other body parts like joints. It reduces the risk of heart disease and lowers blood pressure.
 Everyday cycling, where the exercise leaves you breathing heavily but not being out of breath, is an effective and enjoyable form of aerobic exercise. This is the type of exercise that is most effective at promoting good health. For example, cycling reduces the risk of serious conditions such as heart disease, high blood pressure, obesity and the most common form of diabetes.1,2,3,4  One rough calculation suggests that new cyclists covering short distances can reduce their risk of death (mainly due to the reduction of heart disease) by as much as twenty-two percent.5
Cycling also boosts aerobic capacity, which means more oxygen is delivered to the muscles. Too many people in the United States lead very sedentary lifestyles, which diminishes the opportunity for real exercise, which in turn robs us of our health and shortens our life-spans.

Surrey bike cycling can be a safe, invigorating and fun way to get yourself and family members in good physical condition.
Surrey Bike Cycling Improves Mental and Emotional Well Being!
Just as important as the physical aspects of Surrey bike cycling are the effects it has on mental and emotional well-being.
Just thirty minutes of exercise three to five times a week significantly reduces anxiety and depression according to the Mayo Clinic.

Moderate exercise has been found to reduce levels of depression and stress, improve mood and raise self-esteem, and has also been found to relieve symptoms of premenstrual syndrome.4,5,6

As workdays grow longer, our time with our families necessarily shortens.  Family bike rides are a great way to teach children the value of exercise in the pursuit of fitness.  Surrey bike cycling as a family sets time aside to bond and work together as a team while enjoying the outdoors.
Cycling Is a Real Transportation Alternative!
As the cost of fuel increases and with a greater awareness of environmental concerns, cycling is being recognized as a good transportation alternative.
| | |
| --- | --- |
| Mothers all over the United States are using the Surrey bike to pedal their children to the neighborhood school or to run errands to the nearby grocery store.Now with the Hitch Hiker, the electric pedal assist, for all Surrey cycles, trips around town are easier than ever.Professionals use the EZ Rider for transportation to work, which has many cost benefits to the rider.Of course, the greatest savings would accrue if you can avoid purchasing a car altogether, because bikes do not require gas or parking, and they are easy and economical to maintain. | |
Cycling can reduce the stress of going to work because traffic concerns are minimized and finding a parking is a thing of the past. Cycling to work can be faster than driving a car. The distance to the workplace, the congestion problems, parking problems and other factors are all reasons to give it a try. You might be surprised how much time you can save and how much stress you can reduce.

Mr. Elmo Melancon, who turns 90 years young in 2010, says he likes the EZ Rider because "you can get exercise if you want, but if you get tired, the EZ Rider will take you home!"
Surrey Bike Cycling Improves the Environment!
| | |
| --- | --- |
| | Surrey bikes, EZ Riders and Impellos are not only good for the body and save money, but they are also good for the environment because they are quiet and do not pollute the air. Bikes do not contribute to significant carbon dioxide or carbon monoxide particulates in the air. This benefit is especially good, because it helps others as much as you. Another benefit you share with others is the lessening of traffic congestion. Cycling reduces the stress of drivers and pedestrian and leads to benefits for the entire community. |
Getting Started
What sets cycling apart from most other forms of exercise is how well it fits into our busy, modern lifestyles. Apart from the Surrey bike, EZ Rider, Volt or Impello (and a recommended protective helmet) no other equipment is needed, no special time needs to be set, and no special clothes are needed. Instead of spending time stuck in a car or bus, you spend it on the Surrey bike.  No need to find extra time to exercise.
Simply start to use a Surrey bike, EZ Rider, Volt or Impello when you would otherwise have gone by car, bus or on foot. How much you ride depends on you, your fitness and your lifestyle. In a few weeks aerobic fitness will have improved and you will be able to ride for miles.  Order your International Surrey Company product today and get on the path to a more fun, healthier and fulfilling lifestyle with your family!


References
Carnall D. Cycling and health promotion. A safer, slower urban road environment is the key. BMJ 2000; 320: 888.

Mersy DJ. Health benefits of aerobic exercise. Postgrad Med 1991; 90: 103-7 and 110-2.

Kelley GA. Effects of Aerobic exercise in normotensive adults: a brief metaanalytic review of controlled clinical trials. South Med J 1995; 88: 42-46.

Rutter H. Modal shift. Transport and health. A policy report on the health benefits of increasing levels of cycling in Oxfordshire


www.modalshift.org/reports/tandh/print_version.htm

Scully D, Kremer J, Meade MM et al. Physical exercise and psychological wellbeing. In MacAuley D (Ed.) Benefits and hazards of exercise. London: BMJ Books 1999.